Crafting a Proficient Branding Strategy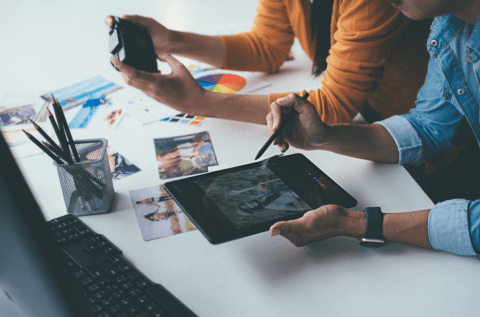 Having a strong proficient brand is essential for any business
Branding is an important part of any business, and it's especially crucial for entrepreneurs looking to establish their presence in the market. It's not just a logo or design – branding involves creating a unique identity that people recognize and trust. 
Beyond its use in marketing, branding can also help you define your values and purpose. At Ajaye Digital, we look at your business and explore how it can help you build a powerful business and personal brand.
Having a strong brand is essential for any business. Your branding should reflect your company's values and goals, set yourself apart from competitors, and demonstrate why customers should choose you over someone else.
We craft a comprehensive branding approach that is both successful and manageable. Developing a personal brand can also help to differentiate yourself as an individual within your business, allowing you to stand out and make meaningful connections with potential customers.
We start by defining your branding goals – what do you want to accomplish with your branding? Who are you trying to reach, and why should they choose you over someone else? 
Once we have a clear vision of what you're aiming for, we begin building out a branding strategy. We consider elements such as logo design, color palette, font selection, and website design – all of these will be in line with your branding goals.
Crafting a personal branding strategy is also essential for success, and we are here to assist every step of the way. We carefully select branding elements that give your audience a genuine view of who you are, like professional headshots and bios that reflect your accomplishments.
Crafting a strong and recognizable brand identity, from your website to social media accounts down to printed materials, is paramount for any business striving towards success. 
When customers see the same logo or colors across different channels they will immediately recognize who you are as a company – creating trust in your products and services.
Businesses have the power to do good. We at Ajaye Digital Marketing want to use our power to help stop domestic violence,
so we give a portion of our proceeds to cause.